Is Your American Flag Made In The U.S.A.?

★★★★★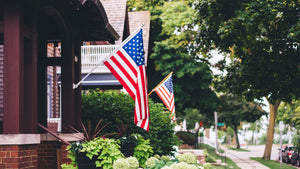 7 Reasons Why Thousands of Patriots Are Switching To Our American Flags
Men and Women everywhere are ditching their old worn out flags for something that's better looking, longer-lasting, and more tried-and-true. Here are the seven reasons why USA Flag Co.® flags now proudly fly in the homes and businesses of over 1 million patriots.
REASON 1
100% Made in the USA
This beautiful American flag is an original American-made flag from USA Flag Co. When you fly this American flag and see the red, white and blue "Stars and Stripes" waving in the sky, you will feel deep inside your soul, "I'm Proud to be an American". Fly your American flag proudly.
REASON 2
Highest Quality Materials
Our most popular and versatile outdoor 3x5 American flag is made of durable nylon to help withstand mother nature's best. Your American flag will be finished with strong, polyester canvas headings, spurred brass grommets, and a four point needle fly hem.
The 100% nylon material provides a rich, lustrous appearance and has superb wearing strength due to the material's superior strength-to-weight ratio, and will fly in the slightest breeze.
REASON 3
Embroidered Stars and Sewn Stripes
When your American Flag arrives at your home or business, you will immediately see the outstanding craftsmanship that has gone into your beautiful new American flag. Highest quality individually embroidered stars and carefully and precisely stitched stripes are sewn together with a special thread using a lock-stitch for longevity.
REASON 4
Certified by the FMAA
All our American-made flags are certified by the Flag Manufacturer's Association of America (FMAA) which certifies this flag has been made in the U.S. of materials that are domestic in origin and that all processes in every step of its manufacture were completed in the U.S. facilities with U.S. labor.
REASON 5
30 Day Free Trial
Not sure if this American Flag is for you? We bet it is. But if you don't absolutely love USA Flag Co. flags after 30 days, send it back with no questions asked. Trust us, very few people do.
REASON 6
6 Month Warranty
This extraordinarily beautiful American flag comes with a (6 MONTHS, NO QUESTIONS ASKED WARRANTY). Simply the best... buy the right American flag the first time from a proud to be an American company.
REASON 7
★★★★★ 50,000+ 5 STAR REVIEWS
Hear From Other USA Flag Co. Users
★★★★★
This flag shows up with rich, full color as compared with our other flags. Really pretty. - Thomas M. Fort Worth, TX 
★★★★★
We ordered a 4'X6' US Flag and Texas Flag. I am very happy to find such high quality flags for our home. These flags have strong deep blue and vibrant red and are truly something we can be proud of displaying. The ordering process was very straightforward with timely delivery. - Thomas M. Fort Worth, TX
★★★★★

Excellent product and service, fast shipping. Thank you!

Amanda C.

Soap Lake, WA
★★★★★

This is a beautiful, high-quality flag with embroidered stars. It arrived in quality packaging which was impressive. Plus, it's made here in America which was crucial for me. There are cheaper alternatives made overseas, but you get what you pay for. I would buy from them again without hesitation.

Jeffery M.

Christiansburg, VA
★★★★★

As a representative for a charitible organization I have purchased many sewn and embroidered US flags over the years. This order was for a new personal-use flag for our front lawn flagpole. The flag is exactly as described and the quality shows. This was my first order from USA Flag Co., but it won't be my last! Thank you for a quality US flag at an economical price point!

Margie Hays

Cantonment, FL
★★★★★

We couldn't get "your" Texas Flag last time we needed it...so we ordered from "W" and put it up! It did not last! Will never order again from any other supplier!

Cathleen C.

La Grange, TX
★★★★★

Great flag! High quality material and well stitched. This is my 4th or 5th fly from these guys and I enjoy each one of them. Worth the money!

Justin M.

Stayton, OR
Secure Your 3'x5' American Flag Today and Save Up To 50% (LIMITED TIME ONLY)
★★★★★
+ Over 50,000 Happy Customers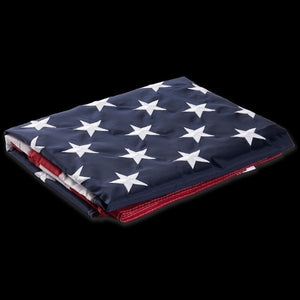 1 x SINGLE PATRIOT
3'x5' American Flag
USE CODE PATRIOT1
Free 30 day trial and 6-month warranty.
$49.95 $29.95
SAVE 40%
ADD TO CART